River Road Camp Rentals
6320 River Road
New Braunfels, Texas 78132
(830)-907-2687

Rafting and tubing on the Guadalupe River in the scenic Hill Country below Canyon Dam. Campgrounds available by reservations. Six miles from the historic German community of New Braunfels which also offers a variety of water entertainment and family activities.
RAFTS FOR RENT
TUBES FOR RENT
SHUTTLE SERVICE
WATER RESTROOMS
HOT WATER SHOWERS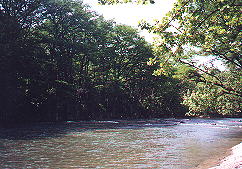 TIPS FOR A GOOD TRIP
Beginners should take a short trip.

Beginners should not take young children their first time out.

Always wear tennis shoes for wading.

Carry food and clothing in watertight container.

Keep off private property.

Respect fisherman and don't cross their lines.

Use litter bags.

Lock valuables in car.

Show respect to others on the river.

Protect yourself from the elements (sun, storms).

This page was created by Web Page Design & Construction
Another creation of Texas Hill Country Life On-Line
River Road on the Guadalupe River Home Page