Lone Star Float House
(830)907-FUNN
7430 River Road
New Braunfels, Texas 78132






Welcome to Lone Star Float House! We are located on River Road 7/10 mile up river from the Second Crossing. We have camping available, from basic tent sights on the banks of the Guadalupe River to beautifully decorated, air conditioned cabins overlooking the river with a lush, private picnic area and Hot Tub to relax in after a long cool float down the Guadalupe River. We offer many float trips ranging from rafting exciting rapids to a cool leisurely trip in a tube as you watch the beautiful Hill Country float by. All of our float trips feature the popular "Tube Chute" where you can stop and run the chute a few times and hang out with friends for a while before the last leg of your float (about 15 minutes). When you reach the float house, you are at your destination, now you can get dry and feed, cause we have a full grill featuring our "Not quite yet Famous Burgers" and "Float House Nachos" along with other favorites, like Bar-B-Que and Grilled Chicken or Pizza. It's also a great way to start the morning. Either fresh out of your tent, or, cabin (although our cabins do offer kitchenettes), or a power snack before an early float, "Tuttle's Breakfast Tacos" are a Guadalupe River must have! Our deck overlooking the river is a great, scenic place to kick back with your old friends or ones you've newly made, listen to music, have a beer, a bite to eat, and watch the sun set. We cater to all groups, so it's a great highlight for a reunion, party or church group and even a business trip that just needs a break. We can customize a trip to meet everyone's needs, even if they aren't all the same! We can supply the tubes, rafts, life vest, paddles, ice chest, beer, wine, soft drinks, bottled water, snacks, ice, and many other necessities. PLEASE be sure and wear suitable shoes and do not go if you can not swim. We do not recommend children under 6.
7/10 miles up river from 2nd crossing.
Tubes
Rafts
Shuttle
Parking
Food
Beer and Cold Drinks
Hamburgers
Chicken Sandwiches
Picnic Tables
Private Parties
"LET US HELP YOU ENJOY THE RIVER"
From MEMORIAL DAY WEEKEND through LABOR DAY WEEKEND
plus MAY AND SEPTEMBER WEEKENDS
---
30 MINUTES TO 6 HOUR TRIPS AVAILABLE
ALL TRIPS FLOAT THROUGH THE CHUTE
LONGER TRIPS FLOAT THE BEST TUBING RAPIDS
NO STYROFOAM ICE CHEST ALLOWED
ICE CHEST AVAILABLE FOR RENT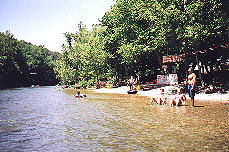 ---
TUBES W/BOTTOMS....................$10.00
TUBES W/OUT BOTTOMS................$8.00
RAFTS.....................$17.00 PER PERSON
$30.00 MIN. + $50.00 DEPOSIT Prices include parking $ shuttle GROUP RATES AVAILABLE (RESERVATION REQUIRED)
PARKING AND SHUTTLE SERVICE AVAILABLE
No private equipment on weekends or holidays
---
WEAR SHOES
LIFE JACKETS SHOULD BE WORN BY CHILDREN AND NON-SWIMMERS
SUN PROTECTION IS RECOMMENDED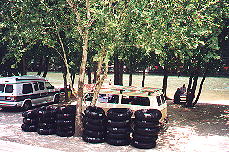 ---
BBQ BRISKET SANDWICHES
SMOKED SAUSAGES
HOTDOGS, FAJITAS
FRITO PIES, NACHOS
SNACKS
BEER & ICE
SODA*ICED TEA* LEMONADE*JUICE*WATER
TEE-SHIRTS, CAPS AND OTHER RIVER MEMORABILIA
---
Glass and styrofoam are prohibited by ordinance
Secure all personal property
Use furnished litter bags
---
All property along the Guadalupe is private
Services available with businesses and outfitters
Please respect all properties
---
Lone Star Float House
7430 River Road
NEW BRAUNFELS, TEXAS
78132
(830)907-FUNN
---
This page was created by Web Page Design & Construction
Another creation of Texas Hill Country Life On-Line