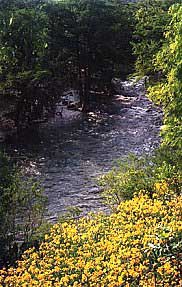 Some of the best trout fishing
on the river
The campground features:
Both primitive tent camping & electrical RV sites.  Of the 90 tent sites, 45 have direct access to the river while the others are all within 200 feet.  All tent sites include a table, bar-b-que grill & plenty of shade. There are 33 electrical sites which include electricity & water in addition to a table & grill.
In addition to the main campgrounds, there are also two private areas which may be rented for large groups.
One great advantage that Lazy L&L Campgrounds offers is the abundance of  land for overflow camping.  Although these are not actual tent sites, the wide open grasslands are quited advantageous on major holiday weekends when all the other campgrounds have "No Vacancies".  It is quite safe to say, "We'll never run out of room"
Rental equipment for cruising down the Guadalupe River offered: regular tubes, tubes with bottoms, 2-man kayaks, and rafts in a wide assortment of sizes.
We also provide a shuttle to bring you back to the campground after your exhilarating and exhausting day on the river.